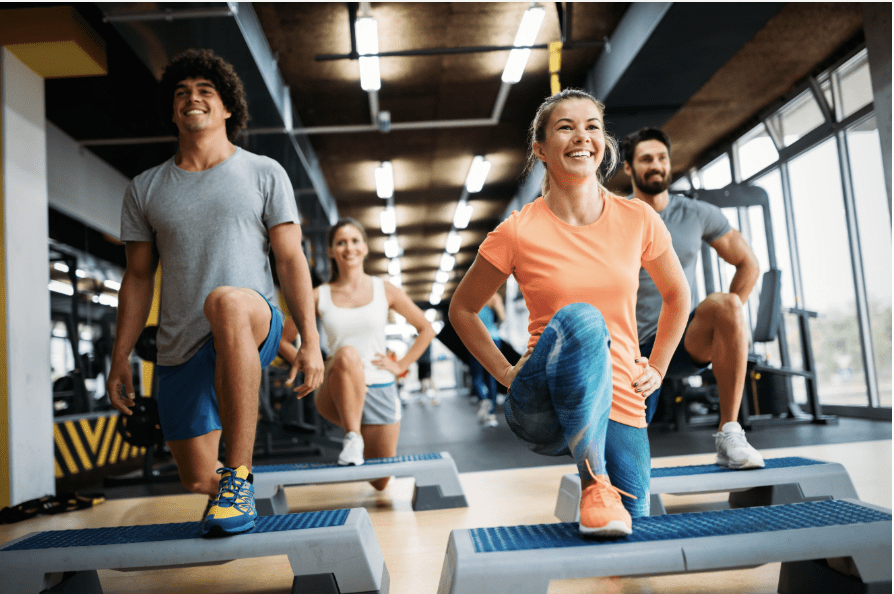 You may think the one-on-one attention of a personal trainer is more beneficial to your fitness goals than taking a group fitness class. You may even think that working out on your own will make it easier to meet your goals since group fitness classes don't generally address individual goals.
However, neither of these points are necessarily true. In fact, group fitness classes boast many advantages. The following are six reasons why you should consider taking a group fitness class.
1. BECOME MORE MOTIVATED
It can be difficult to stick to a regular workout routine when you're working out by yourself. In fact, finding the motivation to hit the gym a certain amount of times every week can be quite difficult, even if you are working with a personal trainer. It's generally easier to find motivation when you're working out with a group of people. This is because when you see other people pushing themselves next to you, it will motivate you push yourself further, too.In that way, motivation is contagious in a group fitness setting!
2. LEARN PROPER FORM
While personal trainers will teach you proper form for various exercises, proper form can't always be learned on your own. Group fitness class instructors will not only teach you the proper form but will also pay attention to the form of everyone in their class, helping them to adjust their form as needed. It's like having a personal trainer, except they're just working in a group setting.
3. GET A MORE STRUCTURED AND INTENSE WORKOUT
Group fitness classes tend to be structured and often consist of warm-ups, balanced workout routines, and cool downs. This ensures your workout is structured properly so your body can achieve as much as possible during the class. It's something you should do when working out on your own as well.
4. BE HELD ACCOUNTABLE
When you workout on your own, there's nobody to hold you accountable. This means you can skip workouts, cut your workouts short or take it easy during your workouts without someone noticing. In a group setting, you have the motivation to keep up (see #1). Additionally, people are more likely to notice if you've skipped classes — especially the instructors. Many people develop strong friendships through group fitness classes. When you work out with your friend, you're more likely to get extra encouragement (and maybe a little constructive criticism) so you can keep at it.
5. LEARN A VARIETY OF EXERCISES
Learning about different workouts and exercises on your own is difficult unless you have a personal trainer. If you take a group fitness class, you'll learn a wide variety of exercises as instructors tend to change routines to keep things interesting and to work on different parts of your body. After all, doing the same thing over and over is boring, especially when working out.
6. ENJOY A SENSE OF COMMUNITY
When you join a group fitness class, you're surrounded by others with similar goals. This allows for a social atmosphere, and you'll you'll find that the people in your class will be supportive of one another. Group support can go a long way toward making you feel good about your progress and helping to motivate you to push further.
Is group fitness right for you? At the Amarillo Town Club, we offer a variety of group exercise classes for all fitness types – and they're free to all Premium Members! If you want to learn more about our classes, check out our class schedule to see what group class could be the best fit for you.