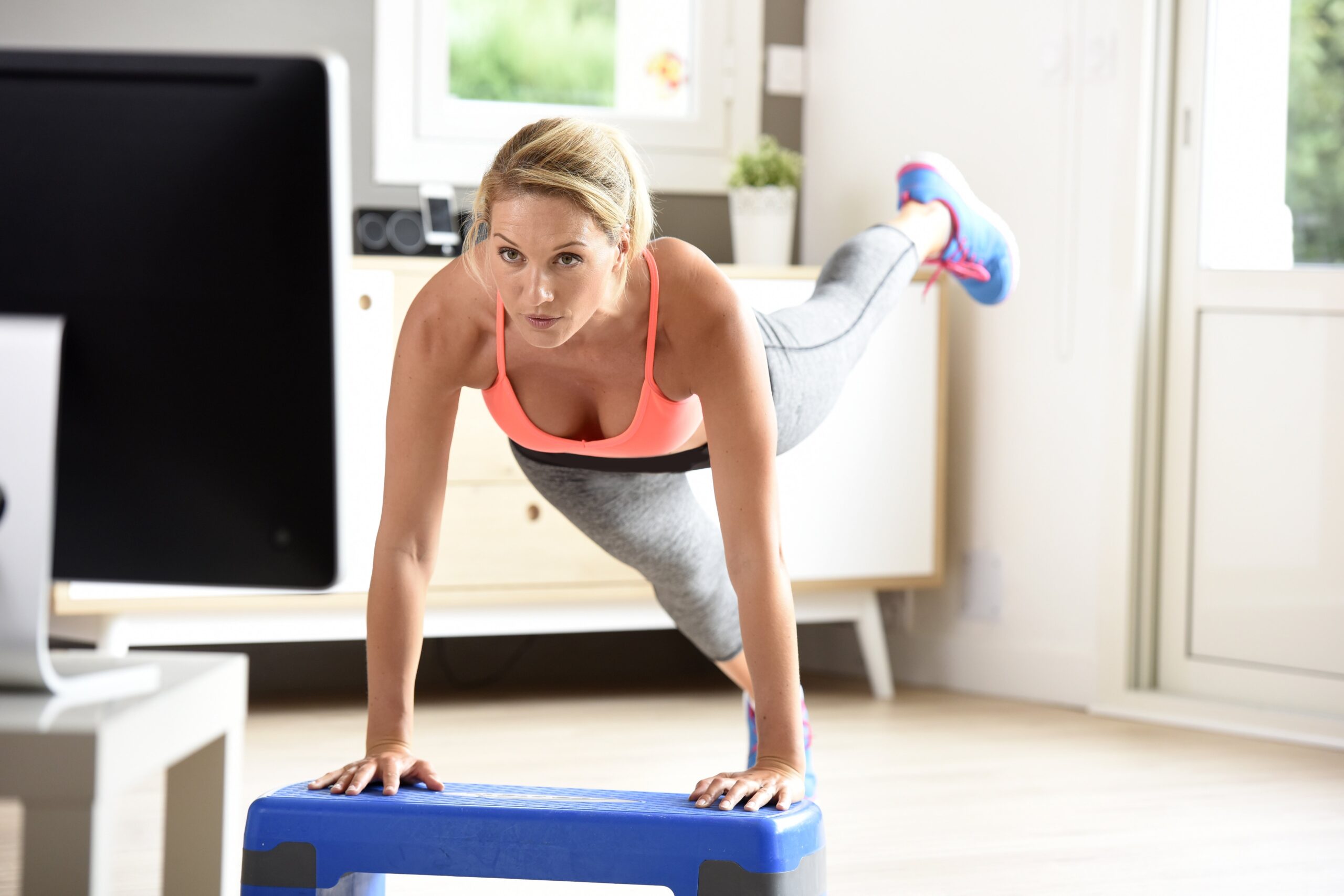 Whether you're a stay-at-home mom or just a busy professional, sometimes you can't make it to the gym. Fortunately, there are plenty of online video workouts you can follow to burn off calories from your living room.
With so many free workout videos online, the hard part is choosing the right one for you. So, to help you get a great workout without leaving your house, here are our six favorite YouTube workouts.
1. The 8-Minute At-Home Abs Workout
Bowflex fitness advisor Tom Holland leads you through this brief but intense workout designed to tone and firm up your stomach muscles. While it's a relatively quick workout, Holland advises that you focus more on form than on how fast you do the exercises.
The workout consists of the following exercises: classic crunches, planks, cross crunches, and rope climbs. Each exercise is done for 45 seconds with 15 seconds rest before moving on to the next move. It's suitable for people of all fitness levels, although beginners are advised to start slow and rest as needed.
2. 30-Minute Low-Impact Workout To Torch Calories
Fitness trainer Justin Norris – who leads this workout with Taylor Gainor – refers to this workout as low-impact, high-intensity while guaranteeing you'll be drenched in sweat by the time you finish.
Resistance bands are used throughout this video, especially with biceps curls, but all exercises may be modified to use without the bands. While it's not quite a non-stop workout (Norris takes brief breaks to sip water), it's very close. You can easily modify the exercise, however, so workout newbies shouldn't be scared away.
3. Yoga Workout For Complete Beginners
Those who have never tried yoga before or aren't very flexible will love this beginner's workout by Adrienne Mishler, an actor and yoga instructor from Austin.
Mishler will guide you through basic breathing and easy yoga exercises designed for beginners. No equipment is needed – though you'll probably want to use a yoga mat.
4. 32-Minute Cardio Workout With No Equipment
If you love high-intensity interval training or want to give it a try, this is the workout for you. As its name suggests, there's no equipment used in this intense workout that follows a 45-seconds of exercise, 15 seconds of rest format.
Fitness Blender trainer Kelli Segars leads the workout. It includes exercises such as knee pulls, lunges with rotation, push ups and roll, jumping jacks, lateral jumps, planks, and much more. The intensity builds as the program progresses, helping you maximize your fat-burning workout.
5. 30-Minute Fat-Burning Cardio Workout – Full Routine
Indian actress, model, and fitness enthusiast Bipasha Basu leads this full-body workout that improves your lung, heart and circulatory function. It also strengthens the bones while improving muscle coordination and, yes, burning significant calories.
Basu takes viewers through a wide range of exercises, including lunge walks, arm swings, ankle rotations, side-to-side movements, squat and round kicks, and squats and front kicks. It's an intense workout that features a variety of moves and is probably best for people of intermediate and advanced levels of fitness.
6. Total Body Tone-Up
Toneitup.com founders Katrina Hodgson and Karena Dawn offer a variety of workouts on their website, including this 14-minute session that requires dumbbells and an exercise mat. You'll also want to keep a water bottle nearby to help you hydrate during this intense workout.
Unlike other regimens, this program is designed to help you workout every part of your body, toning everything from your legs to your abs to your glutes. This makes it the perfect quick everyday workout for someone wanting to tone their entire body.
You can't always make it to the gym, but that doesn't mean you can't still work up a sweat. These six online workout videos are the perfect way to burn calories, build muscle and firm your body without ever leaving the living room.
Get the body you've always wanted. Download our FREE workout guide for a two-week workout plan and get into shape fast.