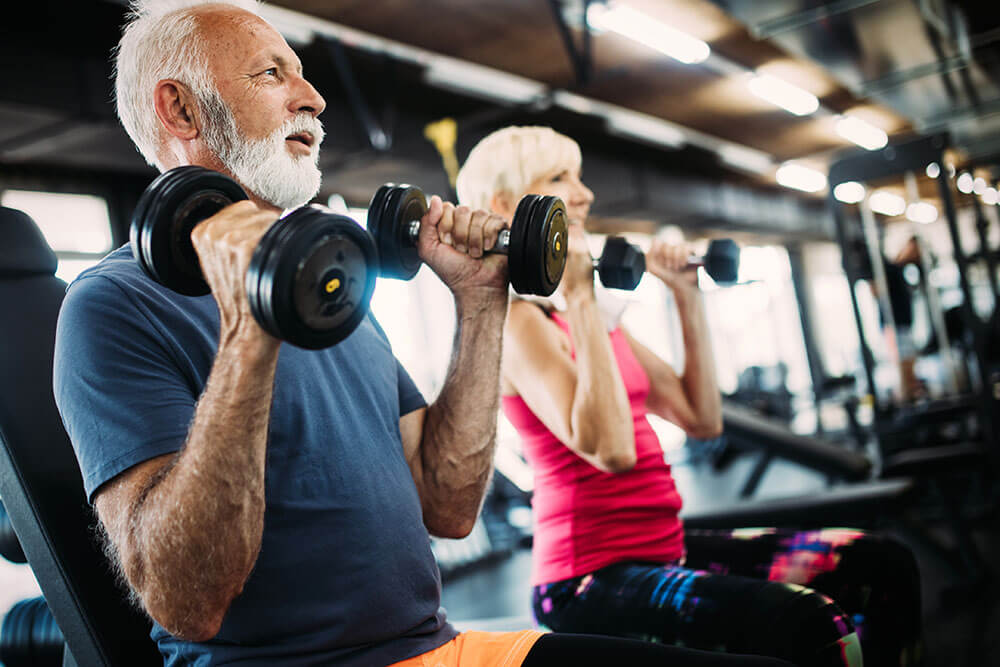 Today's seniors are more active than ever, and they are more interested in keeping their physical fitness at a high level than most past generations.
Aging doesn't have to mean slowing down in life – though the best strategies for exercising while over 50 may be a bit different at points.
Here are 5 key tips for those over 50 who want to maintain a regular exercise program:
1. Always Put Safety First
There are safe ways to intensify your workout routine at any age. Everyone has to know their limitations even while working to achieve fitness goals. As you progress, you will be able to do more safely, but it's best to start at a comfortable pace and intensify exercises gradually.
Gentle exercises like stretching, walking, water aerobics, cycling (including on a stationary bike), or using a treadmill can be easily begun at any pace. And it's simple to gradually increase the length and intensity level so you ultimately reach your goals while staying safe.
2. Join A Local Exercise Group
Community can be encouraging – and anyone starting up a regular health and fitness routine needs all the encouragement they can get. It's so easy to get discouraged, or bored, or distracted by other things.
Joining a local group fitness class or signing up for membership in a local gym makes it easier to "keep going."
There is strength in numbers! And it's safer, too, to exercise with a group. Plus, working out at a gym gives you access to all the best exercise equipment and other amenities in their facility.
3. Take Care To Prevent Back Pain
Those with back problems should be careful when exercising, but there are exercises that are safe and that can even help reduce back pain.
To help prevent back pain while exercising, you can stretch your hamstrings, do "planks" to strengthen your core, swim or do water exercises, or use a stairclimber. Also, always warm up first and vary your routine so as not to overwork back muscles.
4. Guard Your Heart
If you are over 50 or if you have a heart condition of any kind – even if it's not seemingly too serious currently, you may need to work to strengthen your heart via cardio exercises.
Rowing machines, elliptical exercise machines, cycling, running at a moderate speed, and swimming are good choices. It may be best to avoid exercises that involve high-impact jumping, however, if your heart is too weak currently.
5. Focus On Strength Training
Regaining or maintaining strength is a common goal among the over 50. Getting older doesn't have to mean getting weaker!
Increasing muscle mass while decreasing body fat, lowering the risk of long-term health disorders, and improving immune health are good reasons for engaging in strength training.
Strength training exercises for those over 50 include forearm planks, "bird dogs," single-leg toe touches, reverse lunges, box squats, and standing shoulder presses, and more.Over 50 and interested in working out in an up-to-date local gym? Want to join a fitness group? Want access to all manner of exercise equipment? Looking for a convenient and comfortable facility to workout in? Visit Amarillo Town Club in Amarillo, Texas, today! Or contact us online.